SYDNEY ACTORS SCHOOL
WELCOMES
YOU
INTO THE
2022 ACTING ENSEMBLE
This page has all the essential information you need to know prior to Orientation Week.
---
MATERIAL COVERED ON THIS PAGE INCLUDES 
| | |
| --- | --- |
| Important COVID Information | |
| | |
| | Getting a Unique Student Identifier (USI) |
| Opal Travel Concession Card | |
| | Waterloo Studios Floor Plan |
| | |
| | Student Uniform & Equipment Requirements |
| Equipment Booking Policy and Booking Form | Student Health Intake Form |
| OnPsych and Referral Form | Orientation Week Timetable and Important Information |
| |   |
---
IMPORTANT COVID INFORMATION
This semester, Waterloo Studios will deliver face-to-face training on campus in accordance with the NSW Government requirements, with measures in place to minimise exposure to COVID-19.
As a duty of care could you please provide your current vaccination status. For information on how to access certification, please visit COVID-19 digital certificate as proof. Please email a copy of your certificate to the Student Services Manager, Donald Tare at donald.tare@waterloostudios.com.au by 5pm on Friday February 4th. Should you wish to discuss your situation, please do not hesitate to contact Donald.
Please note that all privacy measures are in place as per our student policies and that any certification sighted by our Student Services Manager and Director of Education or Executive Chairman will not be kept on file and any conversations or correspondence will be confidential.
What do you need to do?
Check-in using the QR code displayed at reception each morning when attending school
Wear a Mask at all times within Waterloo Studios, unless instructed otherwise by a teacher or staff member.
Stay 1.5m away from others where possible
Hand Sanitise upon entry and during your time at Waterloo Studios (Hand Sanitising stations are located throughout Waterloo Studios)
Stay at home if you're unwell
You can read the full Waterloo Studios COVID-19 Safety Procedure here.
---
STUDENT HANDBOOK 
Please click on the Student Handbook below and read through the Handbook carefully. If you have any questions please don't hesitate to contact the school to speak with one of our friendly staff members. Once you have read through the Handbook please click on the Declaration Form below, which will take you to a google form to complete. By completing this declaration form you acknowledge that you have read, understood and agree to comply with the information outlined in the Student Handbook and that you observe and comply with the SAS Policies and Procedures.
---
ACTING ENSEMBLE
We are very excited to introduce you to your fellow actors.  You have all successfully auditioned to gain a place at Sydney Actors School. Please be prepared to have your photo taken for your student card and the class roll on the first day of Orientation Week. You must complete the Photo Release Form below which grants SAS the right to take film/video or photographs of you during scheduled classes and assessments, filmed or live performances, on set, on location or in Waterloo Studios common areas throughout your training. 

---
STUDENT EMAIL
For the duration of your studies with Sydney Actors School all course and school communications will be sent to your school student email address and via Google Classroom. Your email address has been successfully created. Please refer to your personal email which you supplied SAS for your username and password. The activation email is titled: You have a new Google account for Waterloo Studios. 
If you did not receive this email, please check your spam or junk folder. Please contact Donald Tare on donald.tare@waterloostudios.com.au or call 02 8399 3380 from 9AM-5PM Monday to Friday with any questions about your account.
Your email will be in the form firstname.lastname@sydneyactorsschool.edu.au
---
STUDENT NUMBER 
You will be allocated a student number at Orientation Week along with your student card.
---
GETTING A UNIQUE STUDENT IDENTIFIER (USI)
All students doing nationally recognised training need to have a Unique Student Identifier (USI).
What is a USI?
The USI is a reference number made up of ten numbers and letter that:
creates a secure online record of your recognised training and qualifications gained in Australia

will give you access to your training records and transcripts

can be accessed online, anytime and anywhere

is free and easy to create and

stays with you for life
Who needs a USI and why?
If you are a new or continuing student undertaking nationally recognised training, you need a USI in order to receive your qualification or statement of attainment. If you don't have a USI you will not receive your qualification or statement of attainment. Your USI will give you access to an online record of the training you have done since 1 January 2015. You will also be able to produce a comprehensive transcript of your training. This can be used when applying for a job, seeking a credit transfer or demonstrating pre-requisites when undertaking further training. If you are an international student studying offshore and do not intend on coming to Australia to do your study you do not need a USI. However, if you are an Australian expat or resident student studying offshore with an Australian training organisation, you will need a USI. If you are an International student who will be studying in Australia you will require a USI. All international students in Australia will have been issued with an Australian Visa. Once you have arrived in Australia your visa will be activated and you will be able to apply for a USI.
If you NEED a USI – Create one here
(International students must wait until arrival into Australia to apply.)
You will require your USI to be created prior to Orientation Week. 
OPAL TRAVEL CONCESSION CARD
The Concession Opal card is available for SAS students. Only Australian Full-Time Students can get a "Student Concession" Opal Card.  International and Part-time Students must travel on an Adult Opal Card.
Next, consider where you need to travel: If you need to travel only in the Opal network (and not rural/regional NSW), you can apply for a Concession Opal card, giving you access to concession fares.
How to top up
If you don't add value to your Opal card when you first order it, you need to add some value before you travel. You can top up your Opal card:
Online and phone top ups may take up to 60 minutes to take effect and you must tap on at an Opal card reader within 60 days to collect the top up value on your card, otherwise your top up value will be reversed to your credit/debit card account. Some retailers require their customers to pay minimum transaction values or a service fee to cover credit/debit card merchant fees.
When traveling on public transport you will need to have on you TWO Cards: A Transport Concession Entitlement OR Your SAS Student Card AND a Concession Opal Card – use your Unique Student Identifier (USI) as your student id when applying and remember to set up auto top up, so you're always ready to travel.

AXCELERATE 
To easily track your schedule, assessments and course, you will use our student management system aXcelerate.  Please watch the below video which will show you a glimpse of the aXcelerate Learner Portal. 
---
GOOGLE CLASSROOM 
In conjunction with aXcelearate you will use Google Classroom for correspondence with your tutors and your ensemble. Below is a step by step guide to installing and signing into your personal student account. Once you have signed in you will be able to view all your noticeboards, classes and discussion boards.

Sign in to Classroom?
You can sign in to Classroom with:
Your SAS Education account (firstname.lastname@sydneyactorsschool.edu.au) this has been set up by SAS already for you.
You must have an active internet connection to sign in.
SIGN IN TO CLASSROOM HERE
Enter your SAS Education account (firstname.lastname@sydneyactorsschool.edu.au) into the username field and click Next.
Enter your password and click Sign in.
If there is a welcome message, read it and click Accept.
Click I'm A Student.
Click Get Started.
Now that you are signed in, you are ready to start using Classroom.
Join a class
To use Classroom, you need to sign in on your computer or mobile device and then join classes. Then, you can get work from your teacher and communicate with your classmates. When you join a class on one device, you're enrolled in that class on all devices.
Accept an invitation from your teacher
— If your teacher sends you an invitation, you'll see 
Join
 on the class card on your Classroom homepage.
Accept an invitation from your teacher
Go to 
classroom.google.com
.
On the class card, click Join.
(Optional) To see if your teacher included a class overview, at the top, click the down arrow.
---
WATERLOO STUDIOS PLAN – GROUND / FIRST FLOOR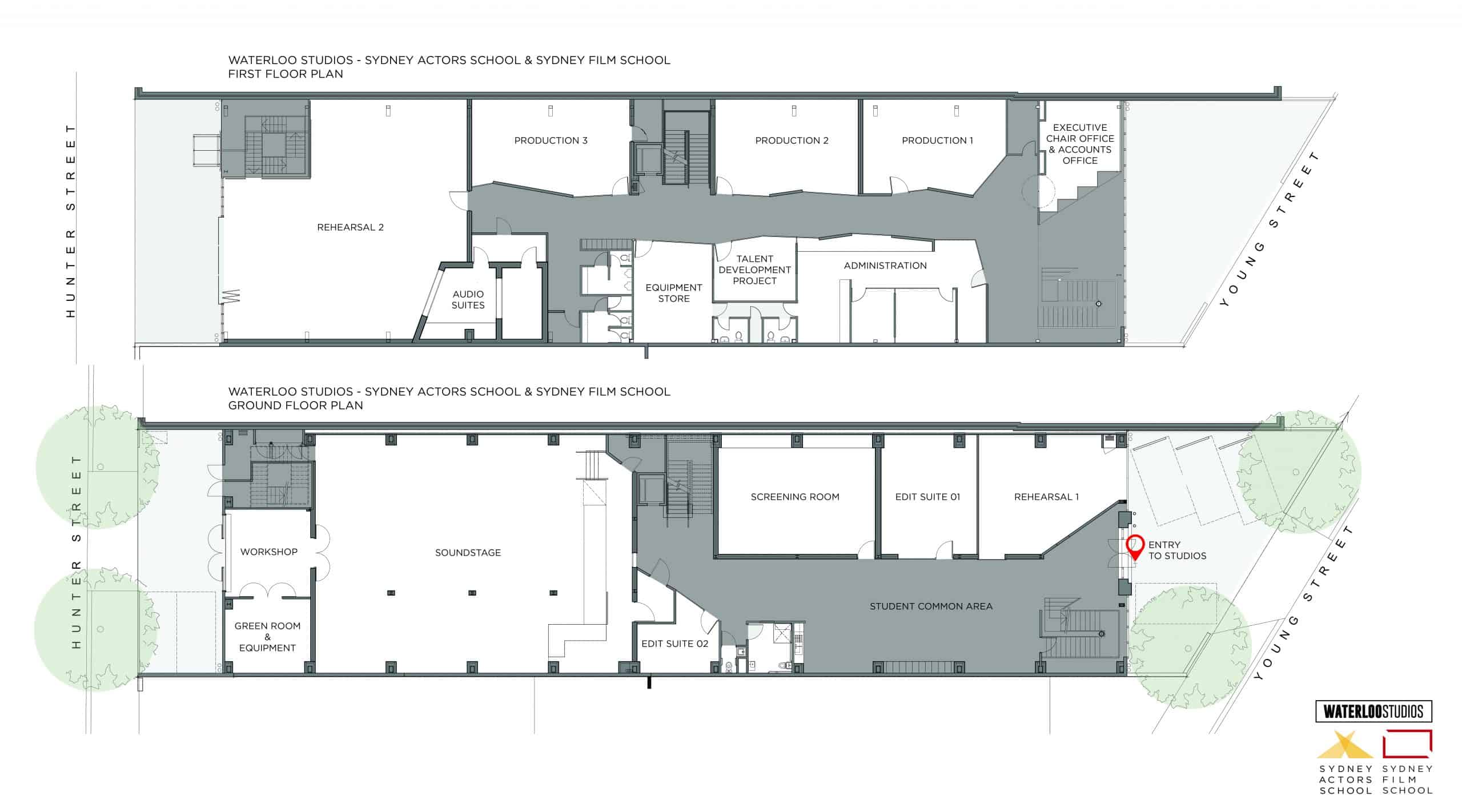 ---
WI-FI ACCESS
All SAS students have access to the Wi-Fi network. The Wireless connection is: SSID: Student Password: breakaleg
You are expected to use the wireless network facilities only for your academic work. Please show consideration for others and refrain from providing access to unauthorised users and obey all relevant laws. SAS reserves the right to withdraw services from all students if services are generally misused, and to deny access to services, and to take other disciplinary action against individual students who misuse these facilities. Students must not send or receive personal emails, use Instant Messenger, YouTube, Facebook or any other recreational use whilst in class.
---
STUDENT PRINTER
The student printer prints A4 and A3 black and white copies. All computers in the school are connected to the Student Printer located downstairs in the student common area. Printing for SAS students is free of charge. If you would like to connect your personal lap top to the printer you can find it via the student wi-fi using bluetooth.
---
STUDENT AMENITIES 
You will have the opportunity to rent a locker from SAS. Lockers will be allocated on the first day of Orientation Week. To rent a locker you are required to pay a $20 deposit (CASH), which will be refunded to you on your last day of training. To have your deposit refunded you must return you locker key to the General Manager or Student Services Manager. It is not compulsory to rent a locker. The Student Common Area is equipment with a vending machine, toaster, sandwich press, microwaves, Nespresso coffee machine and fridge.  The fridge is for MILK ONLY. Any student food found in the fridge will be thrown away without warning. SAS recommends you bring your lunch to school in a cooler bag and store your lunch in your locker. We also recommend storing a plate/bowl, cutlery and cup in your locker for your personal use. There is no student parking onsite at SAS. There is on-street parking around the school with all day parking in certain streets. SAS is a NO SMOKING school and studio. Smoking is prohibited throughout all areas of the school including the front and rear outdoor area of the school.
---
STUDENT UNIFORM AND EQUIPMENT REQUIREMENTS
Acting students are required to wear blacks everyday to school. Your blacks should be comfortable and allow you to move freely during skills classes.  SAS recommends black t-shirts, singlets, long sleeve tops or jumpers and black tights, shorts or loose fitting pants without logos or slogans.
You must always have access to closed-toed comfortable shoes for all Technical Craft classes, and during production on set or on location. As close-toed shoes are not necessarily required for skills or acting classes, please ensure you keep a pair of closed-toed shoes in you SAS locker or in your bag at all times. This requirement is standard industry practice. You are allowed to wear casual clothes to Orientation Week, but from Week One onwards your blacks must be worn to SAS classes each day. As NSW continues to navigate COVID-19, please ensure that you have a face mask with you at all times whilst at SAS. Actors are required to purchase their own External Hard Drive to store their work on during the entirety of the course. All other equipment requirements will be administered through the Equipment Store. During Orientation Week you will be shown the correct equipment/room booking procedures.
---
EQUIPMENT BOOKING POLICY AND BOOKING FORM
Sydney Actors School maintain a wide range of equipment and facilities to support the educational programs and the learning experiences of students. It is essential to ensure that these facilities are available and in good condition at all times to avoid disruption or disadvantage to the students, courses and to the school's activities in general. This policy below defines the parameters of student access to equipment that is property of Sydney Actors School.
PLEASE READ THE EQUIPMENT USE POLICY FOR STUDENT ACCESS
You will be required to use the school's equipment for a number of assessments during your time at SAS. Every time you borrow equipment you are required to complete the below SAS Equipment Booking Form. You can download and print this form when required or these forms are also located in the Equipment Store at Waterloo Studios. If you need assistance completing the below form one of the friendly Equipment Store staff members will be happy to assist you. 
---
STUDENT HEALTH INTAKE FORM
You must complete the Student Health Intake Form prior to Orientation Week. Click the below form to complete and submit. Your Health Form provides us with insight to better individually support you throughout your training when/if required. 
Please note: your private Health Form will be viewed ONLY by SAS Director of Education and SAS Student Services Manage. SAS Tutors will not have access to your personal health information without your consent. 

---
ONPSYCH AND REFERRAL FORM
Sydney Actors School has partnered with OnPsych to provide mental health services to individuals at no out of pocket cost (bulkbilling without a gap fee) under a GP Health Plan. This entitles students 10 sessions within a 12 month period with a psychologist or accredited mental health social worker. The onPsych psychologist who is working with SAS every second week is Aubrey Lualhati.
To ensure there is no waiting period for you to access onPsych services at SAS, please follow these easy steps to obtain a GP referral.
Firstly complete the Adult Referral Form below.

Book a double appointment with your GP
Advise them of your concerns regarding your emotional wellbeing
Obtain a referral under the Better Access Initiative (Item 2715/2700)
Have your GP fax the referral and the paperwork directly to onPsych on 1300 651 580 or via email at contact@onpsych.com.au
onPsych will then be in contact with you to arrange a meeting time at SAS
For further information about onPsych services, feel free to contact Donald Tare, SAS Student Services Manager or visit www.onpsych.com.au
Please note: any student wishing to schedule a session with onPsych will be cleared from class with approval and support from the Director of Education. All you need to do is communicate your appointment time to the Student Services Manager, Donald Tare so that your Tutor can be informed ahead of class.
---
ORIENTATION WEEK TIMETABLE AND IMPORTANT INFORMATION
We will be taking your photo on Tuesday 8th February (first day of Orientation Week).  If you wish to wear make up, have your hair styled a particular way or wear a particular colour top please do so. We will have a Welcome Lunch on Tuesday 8th February and BBQ for lunch on Wednesday 9th February where you will have a chance to meet the Second Year Actors along with the First and Second Year Filmmakers from Sydney Film School. You will not need to bring your lunch on the first and second day of Orientation Week. You will be required to attend all days of Orientation Week.  Orientation Week will be Tuesday 8th, Wednesday 9th and Thursday 10th of February from 9am to 5pm each day.  We have so many fun things planned for you all.
---
2022 TIMETABLE
We will explain the timetable in greater detail during Orientation Week. Your timetable will be accessible through aXcelerate. Your classes are scheduled Monday to Thursday, 9am to 5pm every week with a lunch break between 12pm and 1pm on Mondays and Thursdays and 1pm – 2pm on Tuesdays and Wednesdays.  Waterloo Studios is open from 8am to 8pm daily, (closed Saturdays and Sundays). You must be on time for class each day. If you are late, you will be locked out and not allowed to participate in your first class of the day. Attendance at all classes is compulsory. It is the student's responsibility to contact the SAS Director of Education and the SAS Student Services Manager in advance if they are unable to attend class. For further information on assessment and attendance, please see the SAS Student Handbook.
---
The SAS staff look forward to meeting you all at Orientation and can't wait to watch you grow throughout your training.